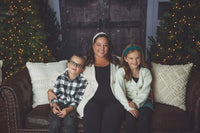 Hi! My name is Amy and I'm the owner of TTB! I'm a school Speech-Language Pathologist and momma to Kinley and Hudson!

I started Trendy Tags Boutique because I wanted to utilize fashion to empower women to look and feel their best self.  I was struggling with finding myself after having kids and wanted to use my passion for fashion to help other women feel good!

Trendy Tags Boutique an online/pop-up shop based out of Cincinnati, OH. We specialize in women's clothing and accessories for the busy woman and momma on the go! You will find boutique pieces that are versatile (you can dress them up or dress them down), comfortable, and one-of-a-kind! Sizes S-3X
TTB is a reflection of my personal style, attention to detail, and love of fashion.
Join our Facebook VIP group to get 1st dibs on new arrivals & sales!